July 7, 2015

Authentication Tool Developed Using
Hologram Capture by Smartphones
~To be demonstrated at the "Live Entertainment & Event EXPO"
with a view to widening application to the entertainment field~
Artience Lab Inc. (CEO: Akira Shirakura, headquartered in Mobara, Chiba Prefecture) announces the development of an authentication tool using holograms, "WOWcode", and a software application, "WOWcoder", for reading the code with a smartphone.
These are scheduled to be on exhibit with demonstrations at the "Live Entertainment & Event EXPO" to take place at Makuhari Messe from July 8 to July 10, 2015.

"WOWcode", an example of the hologram recording technology WOWGRAM (Note 1) developed by Artience Lab, is a service that uses the technology to record multiple barcode data in the same place which, together with a smartphone software application, exploits the features of the Lippmann hologram.
Although holograms, because of the difficulty in producing counterfeits, are in wide use as a visual tool for determining authenticity, there is an emerging situation that it is not easy for a non-specialist to discriminate between an authentic hologram and a replica with precise similarity. Methods of automatic discrimination using dedicated reader equipment have been proposed, but there were problems of cost and ease of use.
WOWcode, developed by Artience Lab, allows easy discrimination of authenticity by a user without any expertise using a smartphone at hand. Only a user who has the WOWcode is allowed secure access to a pre-specified URL by following the directions for reading the barcode that is indicated by the smartphone application.

"WOWcoder" is a software application for installation in devices with LED lights, such as a smartphone, tablet or PDA, that is designed to enable easy reading of WOWcode. The user is able to read the barcode without being concerned with the angles involved in the hologram reproduction, by matching the guide frame indicated on the application screen with the guide printed on the WOWcode. In addition, since the application recognizes and discriminates the authenticity of the WOWcode in conjunction with the mode of lighting of the built-in LED light, its internal processing takes place in such a way that attempts to read barcodes other than WOWcode are not allowed access. WOWcoder also has the function to read a two-dimensional barcode with individual ID information that is printed close to the WOWcode.
In combination with Artience Lab's WOWGRAM products that offer glasses-free viewing of 3D and moving images, cards, ID's and tickets with a high sense of premium category and original design may be created.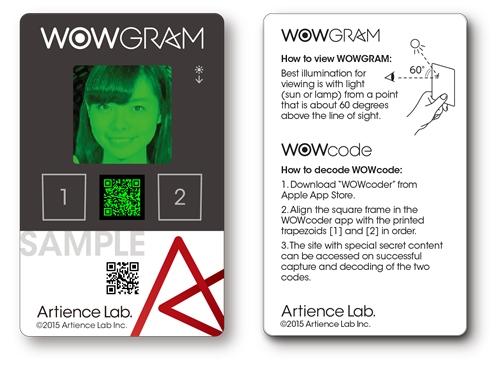 Example of use of WOWcoder for iPhone and iPodTouch:


In the demonstration at the "Live Entertainment & Event EXPO", visitors can experience listening to a secret message after completing the reading, in sequence, of WOWcodes located in the Artience Lab booth using WOWcoder.
This technology can be used in a wide range of applications, not only as security "key", but also in creating a large variety of such goods as premium cards, collectors' cards, fan club ID cards, tickets for events, prepaid cards, items linked to game machines, sales promotion tools, novelties, merchandise tags and packages.
Artience Lab plans to move forward to develop markets and technology focusing on hologram technology to continue to introduce products that provide high customer satisfaction to the market.
WOWGRAM (Note 1)
"WOWGRAM" is produced by recording variations of refractive index at a resolution of more than several thousand lines per millimeter in a photosensitive material for Lippmann-type holograms by using the optical interference phenomenon. It offers the intriguing experience of viewing in monochrome or full color depending on the color of the illuminating light. In contrast to a stereogram that uses lenticular (semi-cylindrical) elements to display images from a pair to tens of points of views solely by means of refractive phenomena, the holographic stereogram allows the recording of images with more than a hundred different points of view on a thin medium with a thickness of several tens of microns. "WOWGRAM" can display smooth moving images and three-dimensional images because of this capability to record several hundred parallax images.
CONTACT